I actually had great ideas for an article, with lots of pictures and a huge celebration, when Mike Truran pinged me late at night to write this. Sadly, he messaged me AFTER the game and I was dragooned into playing for the u2050s at the time, meaning my phone was switched off with no means to take photos. Apologies to the readers of this article as I put the word AMATEUR into my amateur chess writings!
Please note this article is written from my own Yorkshire perspective as Captain and Vice President. Also, as someone who passionately advocated Greater Manchester joining the Northern Counties Chess Union.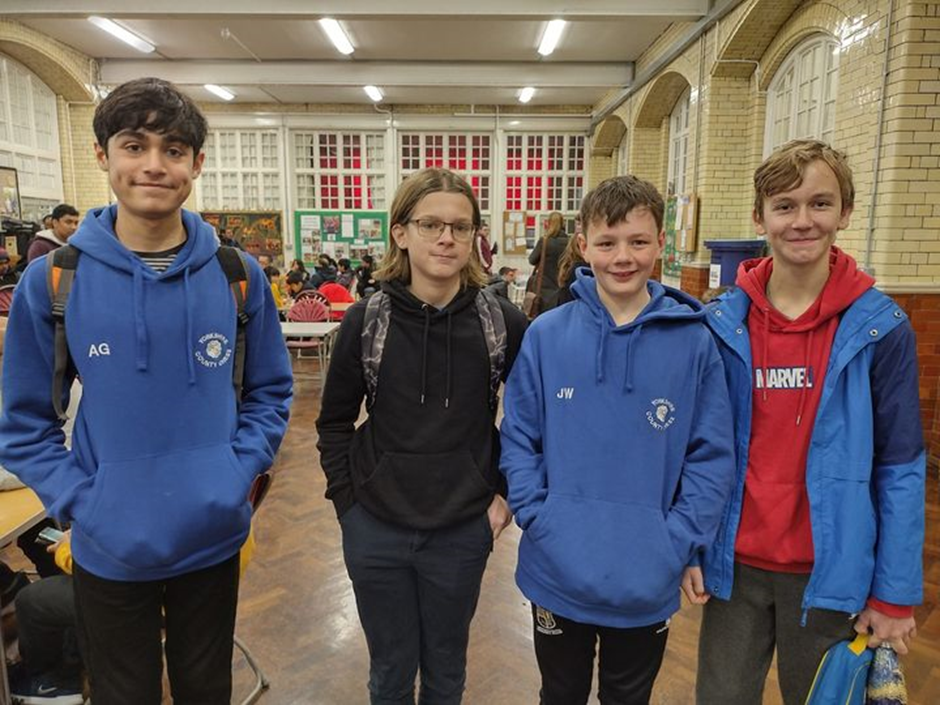 OK this is not from the event but I wanted to show you the hoodies many of the players were wearing in the 1450s and other teams. Rogan and Jacob (middle) played in the match, Awen (left and will no doubt play the next match) and Harley (super nice lad I hope to see playing county in future). This was at a Yorkshire Junior Chess Association event in York.
Greater Manchester sits within the counties of Lancashire, Cheshire, Yorkshire and Derbyshire. Founded 1st April 1974, it has been the source of one of the most ferocious disputes in Chess History.
Early attempts for Greater Manchester to play within the Northern Counties Chess Union, were rebuffed. The formation of this chess association led to arguments and ruction during the last 40 years, forcing them to play games from the Midlands.
There was the threat of legal action on top of this. However, Greater Manchester's attempts to join the NCCU found traction with a number of Counties and outside supporters, leading to Yorkshire putting a successful motion before the NCCU to admit Greater Manchester based on players in the region picking a county.
It was not just Yorkshire but goodwill and support from the ECF, Merseyside, Cleveland and Northumberland. Tim Wall did a fantastic job behind the scenes, engaging widely and with chairing (we spent a lot of time talking). Mike Truran was fully supportive offering advice (again a lot of time talking), whilst Andy Wainwright put up with my constant brainstorming and politicking in the run up to the NCCU AGM. The thank you list is quite large, Damien McElvenny, Mick Norris and everyone in the NCCU that openly discussed and voted.
The decision in the end proved fortuitous as Manchester put five teams into the NCCU with the first match planned for the 26th November with three teams at play.
Greater Manchester u1450s, 1650s and 1850s Vs Yorkshire 26th November 2022 at the Swinton Royal British Legion
Several of us have never gone to a chess match before and received a hug or such a warm welcome. The Legion itself is a large venue with the u1450s and u1650s in the downstairs hall and the u2050s up the stairs in the main chess room. The warm food was lovely. I would have taken pictures but a shortage in the u2050s meant I had to lose a game with my phone off and keep a non-camera eye on my u1450s team, as well as the two kids I was directly responsible for.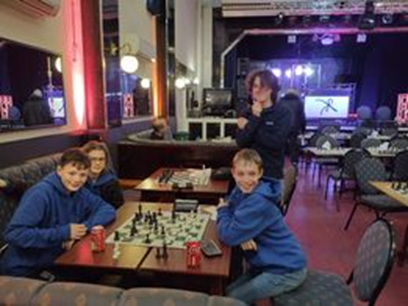 Jacob Westmoreland, Rogan O'Reilly and Alex Burke of Holmfirth, with Kai Taylor (hiding food) of York, pre match
All games were played in good spirit with many reviewing their games after in the upstairs room. In the u1450s section Yorkshire had seven juniors playing, including boards one and two. Despite a disparity in grading, it was decided on the last game with Kai Taylor turning a two-pawn deficit into a win. Alex Burke and Jacob Westmoreland from Holmfirth were the other juniors gain a full point, followed by Dan (Holmfirth), Steve (Harrogate) and Sebastian (Hull), whilst Stuart (Hull) drew.
I was particularly pleased with Jacob's win but as he is my son, I would be!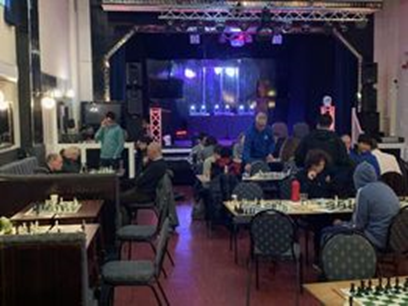 Taken by Damien McElvenny later on. Equal points in the u1450s with the deciding game between Kai and Samarth in front.
The u1650s match was more comfortable for Yorkshire, with wins from Jeremy Butts, Elinor Gorrell, Angelica Rowe (moving up from the u1450s last season), Jack Howarth and John Tate. The score line was the same in the u2050s but it is noted that there were only two draws in that section and six overall. Watch and learn Open team!
Finally, these were young sides playing within both Counties. Yorkshire had only one player over 50 in the u1450s and a large number of under 20s in both the u1450s and u1650s. This is a trend we are noticing throughout chess at present, with a sudden influx of online players making it to over the board play. These players have proved to be very reliable and happy to play for their county.
It will only strengthen Northern Chess as they make their way up the gradings.
As an example, Alex (aged 12) in the u1450s was only playing his third match. During his first junior session at Holmfirth, he beat our top junior player and a coach, having only played online before. Another similar player has just joined Holmfirth.
Leeds are reporting an influx of players in their 20s, while Ilkley Chess Centre having to organise more sessions for juniors due to demand. The recent Scarborough Congress scarred many an established player.
Yorkshire u1850s Vs Greater Manchester 3rd December at The Stumble Inn Holmbridge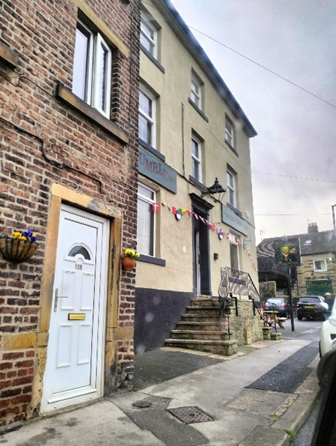 Finally, a County event that I can walk to! With the Bradford Latvian Club unavailable and time ticking I offered Rupert Jones use of Holmfirth's home ground. With much of the player base from Leeds and York, as well as the proximity to Manchester, it was highly convenient.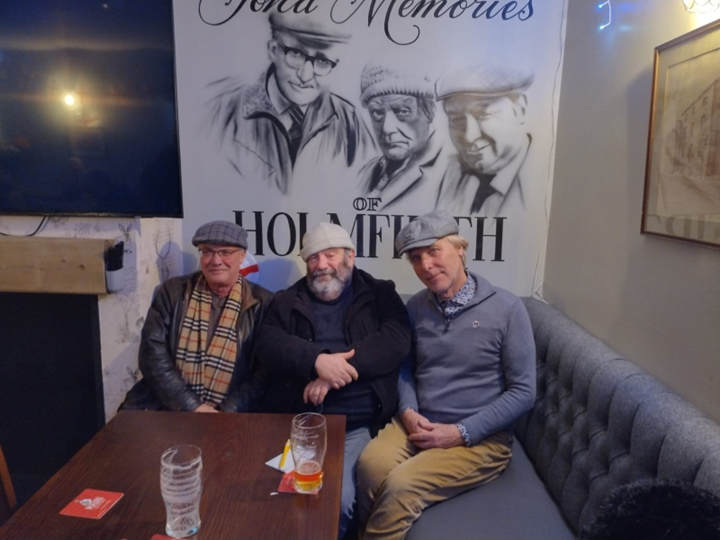 Yorkshire Captain Rupert Jones (middle) with Peter Mason and Robin Brown enjoy a post match drink and try to shake off a strange feeling of Déjà vu..
The match started a little late due to some late arrivals, but all players enjoyed a good chat in the meantime. There we a few familiar faces at Holmfirth, with Mick Connor from the Calderdale League and David Fowler who used to come over the border for Club nights present for Manchester.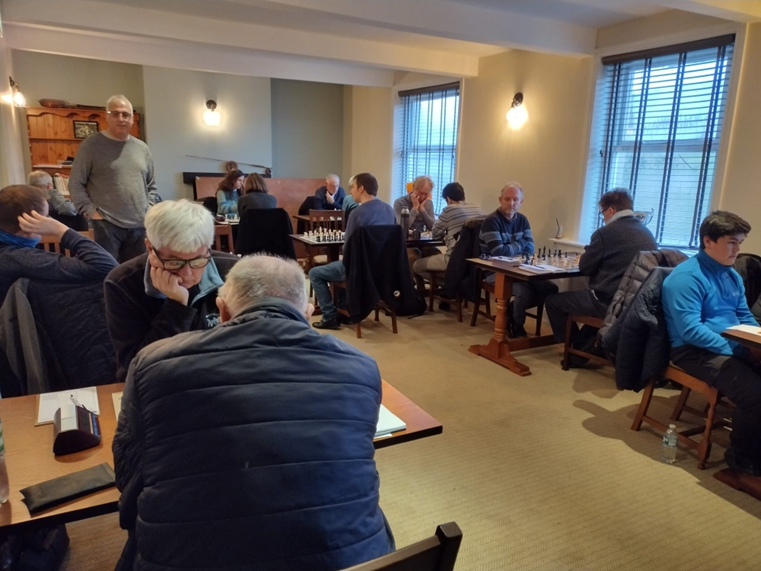 Yorkshire welcomed back Maksym Kryshtafor of Ukraine, who at 8 years of age is developing into a terrifying player. He was the first to finish and won against Alexander Burke.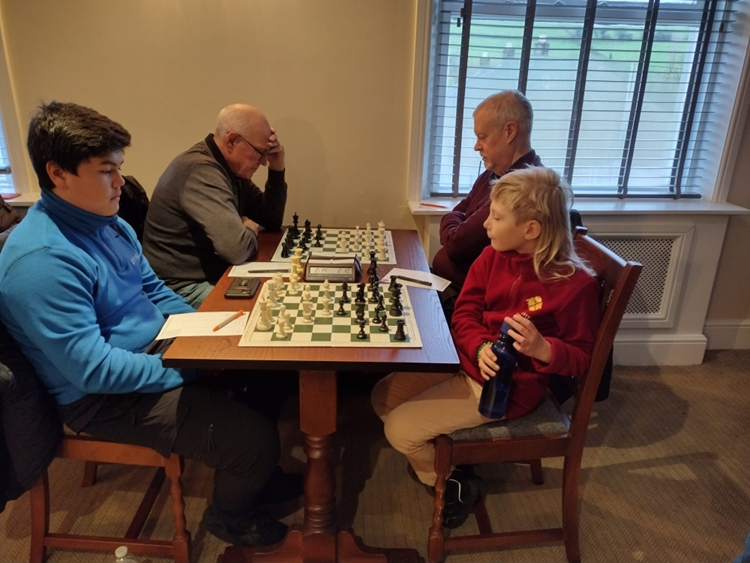 Maksym is plotting next to Dave Colledge
Maksym then proceeded to watch cricket in the main bar and was delighted to be introduced to the game of pool by myself and James Munroe (a local). He was utterly fascinated.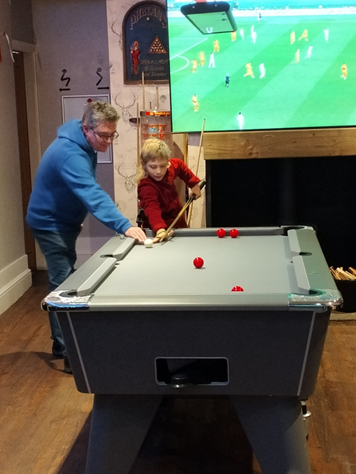 Chess abandoned in favour of pool as Steve becomes an absolute pariah in the chess world.
The games were long and play intense. Fatigue hit many after four hours as some uncharacteristic blunders appeared. There were two instances of phones going off (same player) that was graciously ignored by the opposing player. It was not malicious, but Yoda did cause some amusement in the room. Like I said, it was all played in good spirit.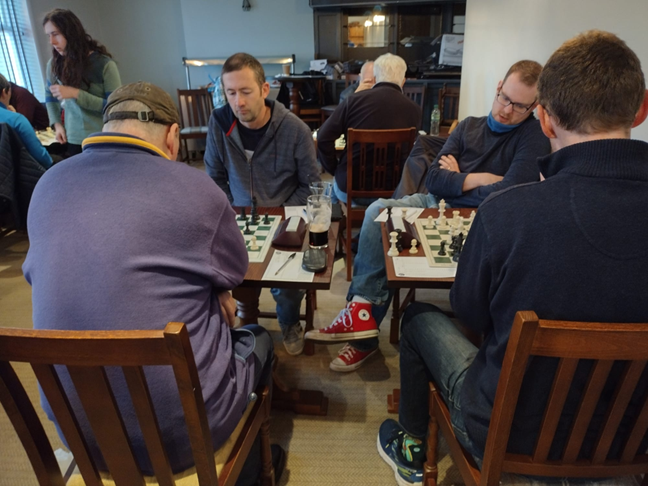 Dave Booth of Holmfirth not yet ready to tap his red shoes together and say, 'there is no place like home'. He was one of the last to finish.
It was a battle but Yorkshire also converted this one to an 8 – 4 win. It was a good event and great to meet more Greater Manchester players. They are an excellent addition to the NCCU.
More photos from the 3rd